Partnership Dispute: What to do When a Partner Leaves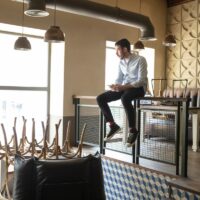 Not all business partnerships are made to last. Partners may find themselves at odds over the direction of the company or a personal matter, a partner may pass away, or a partner might simply choose to leave to explore other opportunities. When a partner leaves a small business, what happens next? Continue reading for a discussion of what your organization should do when a partner leaves. Call an experienced Houston business law attorney for help with a Texas business law matter.
Look to the Partnership Agreement
The first step to take when a partner intends to leave is to look to the partnership agreement. The document should outline how the partnership makes decisions and resolves disagreements, as well as how a partner can go about leaving the partnership. Partnership agreements are not legally required in Texas, but ideally, you will have created one when the business was formed. You may find that you and your partner can decide to amend the partnership agreement rather than dissolve the partnership entirely. If you do not have an agreement, your partnership will fall back on the default provisions of the state's partnership laws.
Partnership agreements, for example, typically split the profits and losses evenly among the partners and give each partner an equal say in business decisions. Rather than dissolve the partnership, you could choose to reduce one partner's control as well as their share of the profits and losses but keep them on as a minority partner.
If you intend to go ahead with dissolving the partnership, your agreement should lay out the process for doing so. Often, partnership agreements require all partners to unanimously agree before the partnership can be dissolved; other agreements may require a majority vote. If one partner wants to dissolve and the others do not, the agreement may specify that the remaining partners can buy out the leaving partner's ownership interest. If a partner tries to leave in a manner that violates the agreement, or if the partners cannot agree on the best way to let a partner leave or dissolve the partnership, you may have to take the matter to a mediator or even to court. If you do not have a partnership agreement, the default Texas partnership law requires a majority-in-interest of partners to agree to dissolution.
Winding up a Partnership
If you decide to dissolve the partnership, there are steps to take to properly close down the business. Generally speaking, you will need to complete any outstanding work to which the company has committed, sell or distribute assets (based on what the partners agree upon), and pay off partnership debts. You will also want to notify creditors, customers, clients, and suppliers that the business is winding up. Texas does not require general partnerships to file a form with the state when closing up shop. Depending on whether your organization is a general partnership, a limited partnership, or a limited liability partnership, there may be some additional tax requirements to deal with under federal and state law. Your business law attorney can help ensure that you tie up any loose ends.
If you need legal assistance with a Texas business law matter, contact the seasoned and savvy Texas business law attorney Leigh Meineke at the Houston offices of Leigh B. Meineke Law Firm by calling 832-706-0244.