Texas LLC Operating Agreement: What Should it Include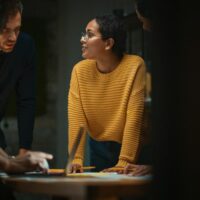 When you are forming an LLC, one of the most important documents you will generate is known as the Operating Agreement. The Operating Agreement is a fundamental part of Texas LLCs, and executing a thorough, thoughtful, and precise Operating Agreement can save the owners significant headaches and conflict down the road. Below, we discuss some of the most important elements that should be included in an effective LLC Operating Agreement. For help drafting your LLC Operating Agreement and otherwise forming your business, call knowledgeable Houston business formation lawyer Leigh Meineke of Leigh B. Meineke Law Firm.
What is an Operating Agreement?
An Operating Agreement is the governing document of a Texas LLC. It lays out the basic management structure of the LLC as well as ownership. It details who owns what portion of the LLC as well as their rights and responsibilities. The Agreement will also spell out who runs the business on a day-to-day basis and anticipates how future events should play out.
Is an Operating Agreement Required?
At the outset, it's important to note: Texas law does not technically require LLCs to submit an Operating Agreement when they file a Certificate of Formation, or to create the document at all. That being said, it's an incredibly useful document that is a practical necessity for any successful LLC. Whether or not it's required by the law, it's essential to the proper functioning of just about any LLC.
What Are the Important Elements of a Texas LLC Operating Agreement?
A proper LLC Operating Agreement will lay out the important foundations of the business. The following elements are essential to define in the Operating Agreement of any well-functioning LLC:
Company Name. The document should identify the name stated in the Certificate of Formation. Texas law sets certain rules and limitations about how LLCs can be named (e.g., they cannot include words like "university" or "bank" and must include the term "limited liability company" or "limited company" spelled out or abbreviated).
Ownership. The Agreement should identify each owner/member and identify what percentage of the LLC each member owns.
Management Structure. Is the business to be managed by the LLC members, or by an appointed manager? What say will members have over any appointed manager?
Member and Manager Duties. The Operating Agreement should make the member duties clear. Some members may be involved in day-to-day management, while others may be silent investors. The document should make explicit what decisions can be made independently of other members and which must be put to a vote.
Member Shares of Profits and Losses. The Agreement should explain how profits and losses are to be distributed to members, as well as the percentage owed to each member.
Voting Rights and Responsibilities. The Agreement should explain what types of decisions and events should give rise to a vote, which members vote on which types of points, and how much say each member has in accordance with their percentage of ownership.
Process for Amending the Agreement. The Operating Agreement can be a living document, adjusting to changes to the business. Members should review the Agreement regularly to see if any amendments should be made; the document can specify how such amendments can take place.
Buying, Selling, and Succession. Should members choose to leave the LLC, the Operating Agreement should explain how ownership rights may be transferred. The Agreement might specify, for example, that the rights should go to another existing member. Your Operating Agreement should also spell out what happens when a member retires or passes away; will family members take their interests but rescind voting rights? Should there be a procedure for automatic buyouts?
Meeting Procedures. Holding member meetings is not required by Texas law, but it's advisable to keep the business running smoothly. The Agreement should lay out the process for meetings, including when they will occur, how they can be called, how minutes will be taken, and other matters.
Dissolution. The Operating Agreement should specify a procedure for when the LLC is to be permanently ended. The Agreement should, for example, identify the percentage vote necessary to dissolve (likely unanimous) as well as the process for dissolution, including taking the appropriate steps for regulatory and taxation purposes.
If you need legal assistance with a Texas business law matter, contact an experienced and thorough Texas business and entity formation lawyer at the Houston offices of attorney Leigh Meineke of Leigh B. Meineke Law Firm by calling 832-706-0244.