Bury Me with My Golden Arm: The Power of Last Wishes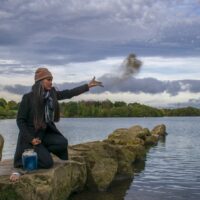 A new streaming service just entered the streaming fray, offering drama, comedy, reality, and other shows that are around 10 minutes each. One of their shows is about a woman whose injured arm is replaced with a golden prosthetic arm. She loves her golden arm, and although the arm is poisoning her, she refuses to remove it. As she lies dying, she asks her husband to promise to bury her with her golden arm when she dies.
During these difficult times dealing with Covid-19, this show made me think about the promises that I have asked my family to make when I pass away. I have asked them to promise to oversee the donation of money to the girl scouts. (I want them to make sure that the money is used for a particular purpose.) I have asked them to promise to have my funeral on a weekday rather than on the weekend. (I do not want folks spending their weekend at a funeral!) I have asked them to promise that after I am cremated that they carry some of my ashes in a sealed plastic bag and take me on a final trip. (I love to travel!) Although the promises that my family has made are not earth-shattering and will not change the world, they are special to me.
The most important thing about these promises is that I asked for them. Last wishes are not things that we like to talk about, but the truth is that it is easier to talk about your wishes while you are healthy. Don't wait. Now is a good time to start this discussion.
It is a good idea to write your last wishes down, especially if you do not want to discuss them with your family or friends. This will help guide your family and friends through a difficult time. Just make sure that your family or friends know where you have written them down.
In case you're wondering, the husband did bury his wife with her golden arm, but it was gold so…. You can probably guess the rest. I don't want to spoil it for you.
Take care, be safe, be strong and take control – it will make a difference for you and your family.