Checklist to Start a New Business in Texas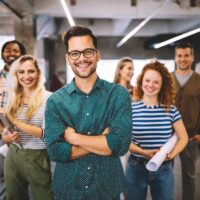 Starting a business is as exciting as it is involved. Even starting a sole proprietorship requires juggling a variety of concerns, including financial, legal, business, and tax obligations. If you intend to start a more complex business entity, additional steps are required. Read on for a list of items to keep in mind when starting a new Texas business. Call a dedicated Houston business formation attorney with additional questions or for help with a Texas business law matter.
Draft a Business Plan
The first step in starting a business is more conceptual: You need to figure out what your business will actually do. A written business plan serves as a roadmap for getting your new enterprise off the ground.
The business plan should include the details about your enterprise, including: what products or services you intend to offer; what market gap or need you intend to fill; how your business will generate a profit; research on your competitors; how you intend to obtain funding; how you will track your company's progress by identifiable, measurable metrics; and any other key items from your pre-founding research.
Decide Upon a Business Entity
One of your first key choices will be to determine the proper business structure. You have a number of options, including a sole proprietorship, a limited liability company (LLC), a corporation, and a general or limited partnership. Each has its own pros and cons regarding personal liability, level of formalities required, regulatory oversight, taxation, etc. The right structure depends on the nature of your business, your partners/co-owners, and several other factors.
Obtain Financing
Finances for your startup can come from a variety of options, including your personal finances, a small business loan, personal credit financing, financing from friends and colleagues, and other sources. If you are starting a corporation, you might consider issuing shares to sell to investors. Talk to an experienced business finance lawyer to review options for funding your business at the start.
Choose the Business Name
Early on, you'll need to choose and register your business name. LLCs and corporations have special rules about names, including that they must include certain keywords and be distinguishable from any other business already registered with the Texas Secretary of State. Sole proprietorships and partnerships with names distinct from the names of their owners must register an assumed business name with the county clerk. That means that choosing a name will require a bit of research and legwork.
Register the Business Entity
Different organizational structures require different levels of formalities for registration. Sole proprietorships don't need to file any organizational documents with the state, while LLCs and corporations must follow certain rules to register with the state.
Obtain Relevant Licenses and Permits
Depending upon the nature of your business, you'll need to obtain the appropriate permits, licenses, certifications, registrations, and/or authorizations. You might need licenses or permits pertaining to health and safety, environmental concerns, building and construction, or for the right to provide specific services or work in specific industries.
Determine Your Business Tax Responsibilities
Each business structure has its own rules for taxation. Make sure you understand your tax obligations based on the nature of your business, and that you fulfill your filing requirements.
Obtain an EIN
Any business that intends to have employees must register with the IRS to obtain an employee identification number.
Open a Business Bank Account
Early in the process, you'll want to open a separate business bank account to track income and expenses to the business. Some business types, such as LLCs and corporations, require a separate bank account in order to maintain your limited liability.
Talk to an Experienced Small Business Formation Attorney
Discuss the specifics of starting a new business in Texas with a business formation lawyer. For help with a business transaction, forming a startup, or other business law matters in Texas, contact the trusted Houston business lawyer Leigh B. Meineke for a consultation at 832-706-0244.