How to Resolve a Partnership Dispute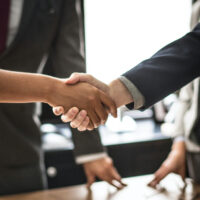 Business partnerships, like other relationships, are likely to involve at least some conflict. No partnership is perfect because no two people can agree on absolutely everything all the time. If you find yourself in a dispute among partners to a business, there are methods to utilize that can minimize disruption to the business and protect both the enterprise and the individual interests of each partner to the greatest extent possible. Continue reading for advice on how to anticipate, resolve, and overcome partnership disputes that may arise during the life of your business. Call an experienced Houston business law attorney with additional questions or for help with a Texas business law or real estate matter.
Anticipating and Preventing Disputes
The best way to resolve partnership disputes is to anticipate and account for disputes before they arise. Make sure that you draft and implement an effective, comprehensive partnership agreement. Partnership agreements lay out the roles and responsibilities of each party, as well as the goals of the business, allowing you to resolve any anticipated conflicts before they become an issue.
With proper legal help, you can draft a comprehensive partnership agreement that will anticipate many potential points of contention down the line, including common issues such as: Distribution of profits; ownership of intellectual property; final authority and decision-making; bookkeeping; capital contributions, debt, and ownership; and more. The agreement can and should account for worst-case scenarios as well, including incapacitation of a partner, divorce, methods for resolving disputes, and the process for dissolution of the partnership.
Resolving Disputes: Negotiation and Mediation
If you encounter a problem that is either not covered by the partnership agreement or which you are unable to resolve using the agreement, it is in your best interests to work toward a compromise. A compromise that serves the interests of all parties will help to preserve the partnership and allow the partners to continue operating the business together without stepping on everyone's toes.
If the disagreement is too intense to handle among the partners alone, mediation is an excellent resource for dispute resolution. Bring in an independent mediator to help the partners work toward agreement, rather than resorting to arbitration or litigation and heightening the adversarial nature of the dispute. Mediation can be informal, or you can hire a professional mediator to help you resolve the dispute. At the end of the process, the mediator will propose a resolution that all parties may be willing to agree upon, even if it's not their most desired outcome.
Options for Overcoming Serious Disputes
If there's no resolving the dispute through negotiation and mediation, then you might need to look to a more permanent solution. Depending upon the nature of your business and the desires of each party, one of the following options may be appropriate:
Buy-Out. It may be time for one partner to leave the business and strike out on a different enterprise. The partners who plan to stay can buy out the departing partner's ownership interest in accordance with the partnership agreement and other governance documents.
Dissolution. If there are only two partners or whoever remains simply cannot come to agreement, it could be time to dissolve the partnership. Dissolution of the partnership may, itself, result in negotiations, mediation, arbitration, or litigation.
Litigation. If the parties cannot agree on how to handle a given dispute, and the issue goes to the heart of the company, the parties might need to take the matter to court. Litigation should always be a last resort as it will likely disrupt the flow of business and result in hurt feelings between the partners. An experienced lawyer can help you prevent the need for litigation but, should the need arise, help you protect your interests and your business.
If you need legal assistance with a Texas business law matter, contact a professional and diligent Texas business dispute lawyer at the Houston offices of attorney Leigh Meineke at Leigh B. Meineke Law Firm by calling 832-706-0244.