How to Reduce Your Risk in Financing as a Homeowner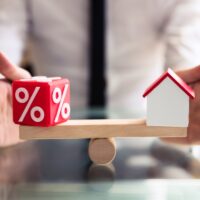 Buying a home is one of the most exciting, and anxiety-inducing, moments of many people's lives. For most people in the U.S., it is the largest single investment they have made up to that point. As exhilarating as buying a house can be, it is important to be prudent as well as wary. The last thing anyone wants is to face foreclosure down the line. Below, we discuss some of the ways you can reduce your financing risks as a homeowner. Reach out to a Houston real estate attorney with additional questions or for help with a Texas real estate or business law matter.
Plan for your financial future
When you have a mortgage, it is important to be on the lookout for potential hazards. Keep an eye out for any of these risks, even before they happen. Risks that can impact your income, your credit score, your ability to make mortgage payments, or your ability to refinance include:
Job loss
Rising interest rates
Reduced compensation
Accident or illness
Legal fees and judgments
Inflation
Divorce
If you anticipate any of these events on the horizon, there are steps you can take to mitigate the risks to your mortgage. If your home equity is in danger of declining, you may take steps, including:
Make extra mortgage payments
Avoid taking out a second mortgage
Seeking a home loan modification for homeowners with past-due mortgages
Look into refinancing – if interest rates are rising, a fixed-rate mortgage is optimal; if interest rates are falling and you have a fixed rate, you might consider refinancing to a shorter-term mortgage
If you anticipate large expenses, such as medical expenses or legal expenses, are in your future, consider all of your options, including evaluating your insurance coverage, raising funds from alternative sources, working out a payment plan in advance, and reducing other expenses. It is also worth considering whether to sell your home while you still have equity, before going too far underwater.
Regularly monitor your mortgage
Getting your mortgage and closing on your house is not the end of your responsibility to be vigilant. In addition to ensuring that you pay your mortgage every month, it is important to periodically make sure that your mortgage payments are being correctly applied, and that all of your other mortgage-related commitments are acknowledged as being met in a timely fashion. Do not give your lenders any wiggle-room to claim that you somehow missed a deadline or other requirement.
Consider refinancing
If the value of your home or your financial situation has changed significantly, you may be able to refinance your mortgage and get more favorable terms. Refinancing a mortgage basically means you will be obtaining a new loan, with new terms and a new interest rate, and using the proceeds of that loan to pay off the old loan. If you can get better terms with a new loan, refinancing your mortgage can reduce your risk and save you significant amounts of money in the long run. Note that refinancing comes with fees, so it is important to weigh the advantages of the new loan terms against the short-term fees.
Some factors can reduce your ability to qualify for a refinance or more favorable terms. Threats to qualifying for a useful refinance include the following:
Lowered credit score
High debt-to-income ratio
Divorce and, in particular, child support and alimony obligations
Unfinished home improvement products
Limited equity in the home
Reduced income at current employment or job loss
Rising interest rates
If you need legal assistance with a Texas real estate matter, contact the dedicated and detail-oriented Texas real estate lawyer Leigh Meineke at the Houston offices of Leigh B. Meineke Law Firm by calling 832-706-0244.