Questions to Ask a Lawyer for a Startup Business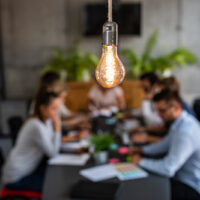 Starting a business requires more than coming up with a profitable idea. There are several important steps to take, and a number of pitfalls to avoid. Working with a business startup attorney can help ensure you start your business on the right foot, protecting your interests and avoiding unnecessary delays, costs, and liabilities. Below we discuss a few issues that any entrepreneur should bring up with a business formation attorney prior to getting a startup off the ground. Call a Houston business formation attorney with additional questions or for help with a Texas business law matter.
Can I Pick Any Name I Want?
Naming a company can be more complex than it might first appear. Every state has rules that must be followed regarding the names a business entity may use. Certain words can only be used for businesses of a certain type, certain words must be included for certain types of entities, and many words cannot be used at all. For example, in Texas, your company name cannot include the words "lottery" or "lotto"; it cannot include any word suggesting that it is a governmental entity ("state department," "treasury," etc.); and it cannot include anything suggesting the corporation is being organized for an unlawful purpose. Your company name might also need to reflect your corporate structure, such as "LLC" or "Corp."
Furthermore, your company must not use any name that is already taken by another company. You should also consider whether your name is too close to an existing company name that could make you run afoul of their trademark rights. Make sure your startup lawyer conducts a thorough search and review of potential names.
What Corporate Structure Should I Choose?
Choosing the right corporate structure is one of the most important decisions you'll make at the beginning of your enterprise. Different corporate structures carry different tax consequences, different administrative and compliance responsibilities, and protect owners and stakeholders to differing degrees from business liabilities (and sometimes, not at all).
Depending upon the nature of your business and other considerations, you might only need an informal business entity such as a sole proprietorship or a general partnership. On the other hand, you may wish to form a limited liability company to protect yourself and other owners from liability, or establish a corporation, of which there are several types. Your business formation attorney can walk you through your options and the pros and cons of each type of structure in order to ensure you make an informed decision.
What Are the Key Corporate Documents, and What Must They Include?
Depending upon the structure of your business, you'll need to generate appropriate governing documents. LLCs and corporations have more formal requirements than sole proprietorships. You may need to draft articles of incorporation, an LLC operating agreement, or a shareholder agreement. Other documents such as corporate bylaws might not be strictly necessary, but they may be important to ensure your operation runs smoothly.
What Other Documents Will I Need Early On?
In addition to formation documents and other documents governing your business operations, there are several contracts, policies, and other documents you'll need to start preparing as soon as your business gets off the ground. Depending upon your operations, you may need any of the following:
Employment contracts
Non-compete agreements
Non-disclosure agreements
Severance agreements
Partnership agreements
Equipment leases
Real estate contracts
Sales contracts
Indemnity agreements
What Other Risks Should I Be Protected Against?
There are many issues to keep in mind when starting a business. You'll need to make sure you follow all tax, compliance, and reporting rules that pertain to your type of business and your type of structure. You'll want to put in place protections for your intellectual property, including patents, trademarks, copyright, and trade secrets. You'll want to acquire insurance to protect your business against damage, income loss, or liability of various types. Your business formation attorney can help you lay out all possible risks and concerns and ensure that you can get your business going with peace of mind and a focus on building your enterprise.
For help forming your startup business or with other business law issues in Texas, contact the dedicated, diligent, and thorough Houston business lawyer Leigh B. Meineke for a consultation at 832-706-0244.