Pros & Cons of a Partnership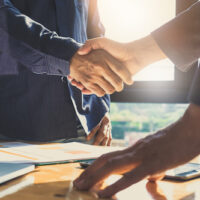 If you're starting a new venture, you'll have 1,000 different decisions to make. Chief among them is whether to go it alone or bring a business partner on board. There are advantages to starting a partnership to help expand your business, but depending on your plans, your needs, and other circumstances specific to your business, you might want to stick with a sole proprietorship. Read on for a discussion of some of the advantages and disadvantages of business partnerships. Call a Houston business formation attorney with additional questions or for help with a Texas business law matter.
Pro: Match Your Respective Areas of Expertise
No one is good at everything. You might have a very valuable skill set, such as software engineering or a talent for coming up with new ideas, but you might have less business acumen. Finding a business partner who can handle the business and finance side of things, or who is a whiz with marketing and client generation, could be the perfect addition to your technical expertise. Maybe you're better with operations and financing while your partner is better on the technical side. If you find someone whose skill set complements your own, you might wish to add them to your venture as a partner.
Pro: Split the Costs
Starting a business is expensive. There are a lot of costs up-front, and the costs will continue until you're generating sufficient revenue to cover all expenses and more. Having a second person involved allows you to split the costs in half, including expenses such as inventory, employee salaries, property leases, and more. Sharing the costs will alleviate some of the heavy financial burdens of starting a new business.
Pro: Expand Your Business
Your partner will, ideally, bring something separate and unique from your contributions. They may come with their own client base, their own experience and expertise, and their own understanding of the industry, each of which can be invaluable in building out your startup. Having a partner also splits the responsibility of running the business, giving you both more time to expand the enterprise into new products, services, clients, markets, or industries.
Con: Loss of Autonomy
The best part about running your own solo business is that you have no one to answer to but yourself. You have the final say on any and all decisions, from hiring and firing to marketing, new product development, and the direction of the enterprise at large.
When you add a partner to the mix, you are surrendering your autonomy. For better or worse, you'll now need to consult with your partner on important decisions relating to the business, and they will undoubtedly have some separate control of the business as well. You can't expect to agree on everything all the time with any one person, so it's important to have someone you can work with through discussions and exploring differing ideas. Before entering into a partnership, make sure that you not only find someone with whom you share a common vision, but also someone with whom you can negotiate, compromise, and trust for the long haul.
Con: Liabilities
When you enter into a business partnership, you're signing up to be responsible for your partner's actions. Any business losses will be shared between you and your partner, as will any debts. If business debts are incurred by your partner, even without your consent, they can impact your personal finances and assets. Make sure you partner with someone you can trust to make wise decisions and consult you before doing anything that might open you up to significant liability.
Con: Selling the Business
If you are a sole proprietor, it's up to you to decide whether and when to sell the business or close up shop. If you have a partner, your partner now has their own separate ownership interests to account for. If one of you wishes to sell and get out of the business but the other does not, it can create conflict.
You can mitigate the risk of conflict by including contingency plans in the formation documents, such as a "right of first refusal" for the other partner to buy out a selling partner's interest. The documents should also include plans for what happens if one partner dies, divorces, or becomes incapacitated and can no longer run the business.
Discuss the pros and cons of a partnership with your business formation and partnership attorney. For help with a business transaction, forming a startup, or other business law matters in Texas, contact the trusted Houston business lawyer Leigh B. Meineke for a consultation at 832-706-0244.