Where to File a Boundary Dispute in Texas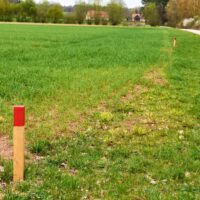 Homeowners and other real estate owners often find themselves disputing the borders of their property. If your neighbor installs a fence, plants a tree, or expands their house or other property, you need to ensure that their physical property does not encroach into property that you rightfully own. Read on to learn how and where to pursue a boundary dispute claim in Texas, and reach out to a Houston real estate attorney for help with a Texas real estate legal matter.
Encroachment, Trespass & Boundary Disputes
Our Texas real estate attorney knows that boundary disputes such as fights over the fence line can be some of the most hotly contested legal battles among all real estate contests. Your first and best option is to resolve the matter with your neighbor without resorting to legal remedies. That is not always possible, however. If you feel that your neighbor is encroaching on your property, or you and your neighbor simply cannot agree on where your property ends and theirs begins, you have a few legal options to pursue.
If you have a dispute over the title to a particular piece of land, you could file a "trespass to try title" claim in a Texas district court or a county court, depending on the value of the property in dispute. You can use a trespass to try title claim in response to misplaced fences and other boundary disputes. Trespass to try title claims allow the court to make a determination regarding title to small strips of land and the border between neighboring properties.
If your neighbor has planted a tree or some other item that has intruded on to your land, you might be able to reclaim your land as well as recover compensation for any damages caused through a claim of encroachment. You can also file a lawsuit to obtain a declaratory judgment determining who owns title to a particular piece of land. All of these claims can be filed in a Texas civil court with the help of a qualified Texas real estate lawyer.
For assistance with a real estate legal issue in Texas, contact the experienced, talented, and detail-oriented real estate attorneys at the Houston offices of Leigh Meineke with Leigh B. Meineke Law Firm at 832-706-0244.