Executory Contracts in Texas Real Estate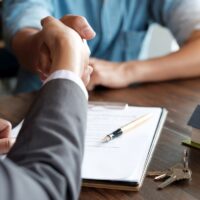 Not every real estate contract is as simple as a property sale. Different types of real estate arrangements exist, and different laws and regulations may come into play when entering into and seeking to enforce such contracts. Read on below to learn about executory contracts in Texas real estate transactions and how they are utilized. Reach out to a Houston real estate attorney with any questions or for assistance handling a Texas real estate or business law matter.
What is an Executory Contract?
An executory contract is a type of long-term real estate contract in which some material action by either party pertaining to property ownership is delayed into the future. Executory contracts can be more easily understood by comparison to a traditional real estate contract. A traditional contract for the sale of real estate is an executed contract, meaning that the buyer and seller both complete their side of the bargain, such that all material elements and obligations are completed at the time of closing. The contract is final, done; money transferred in exchange for property.
An executory contract, on the other hand, leaves some element open for the future. Typically, the item that is left dangling is the actual transfer of title (the deed) to the buyer. A classic executory contract would be a rent-to-own agreement. The buyer agrees to make payments on the property over a number of years and, at the end of the established period (assuming the buyer has made good on payments and other obligations under the contract), the seller will finally deliver title to the buyer.
The Texas Property Code defines contracts for deed, lease-purchase, and lease-options that last longer than 180 days as executory contracts. For example, Section 5.062(a)(2) states: "An option to purchase real property that includes or is combined or executed concurrently with a residential lease agreement, together with the lease, is considered an executory contract for conveyance of real property." The 180-day exemption is meant to accommodate real estate brokers.
Requirements for an Executory Contract
The Texas Property Code includes several specific requirements for an executory contract to be valid and enforceable. First and foremost, the contract must be in writing and signed by the parties to be bound. Any oral agreement that is not reduced to writing will be null and unenforceable. In fact, the Property Code requires sellers to include a provision in the sales contract that explicitly notes that any separate oral agreement is not enforceable. Failing to include this warning for buyers, and then inducing action by way of an (invalid) oral agreement may constitute a "false, misleading, or deceptive act or practice" under the Texas Deceptive Trade Practices Act (DTPA), and the buyer would be permitted to cancel the contract.
Many additional requirements under the Property Code must be satisfied for the executory contract to be valid. The seller must provide, for example, a recent property survey; a copy of all liens, restrictive covenants, and easements affecting the property; a tax certificate from the collector for each taxing unit that collects taxes due on the property; and a written notice discussing the condition of the property, among other things. Failure to provide these seller disclosure documents is grounds for the buyer to rescind the contract and collect significant damages from the seller caused by the failure to disclose.
Other special rules apply for executory contracts, including the buyer's right to cancel and rescind the contract within 14 days for any reason. Talk to a seasoned Texas real estate attorney about your proposed transaction to ensure that all requirements are met and no unnecessary liability is generated.
If you need legal assistance with a Texas real estate matter, contact the experienced and thorough Texas real estate lawyer Leigh Meineke at the Houston offices of Leigh B. Meineke Law Firm by calling 832-706-0244.