What to Do If You Suspect Breach of Contract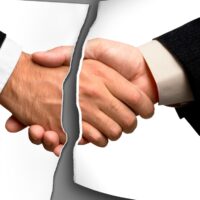 Business relationships are forged through contracts. Contracts impose duties on each party: I deliver you goods or services, and you pay me in exchange. When a party violates the terms of a contract, the other party can suffer significant harm. The non-breaching party can find themselves in hot water with customers, clients, and other business partners. If you suspect a breach of contract, it's important to take the right steps to protect your rights, your business, and your future. Continue reading for tips on what you should do if you suspect a party has breached their duties under your contract. Call a knowledgeable Houston business law attorney with additional questions or for help with a Texas business law or real estate matter.
Review Your Records
If you suspect that a vendor, client, or other party has breached your contract, you should first step back and take stock of the situation. Review your files to make sure that you have not overlooked something. Did you deliver the goods in accordance with your duties, and did the other party actually fail to pay? If you double-check your records and have reason to believe the other party did, indeed, fail to perform their duties under your contract, you'll need to take steps to remedy the breach.
Call a Business Dispute Attorney
If you have reason to suspect a breach of contract, one of your first steps should be to call a breach of contract lawyer. Your attorney will review the situation, consider the best course of action, and help you resolve the matter as efficiently as possible while protecting your rights, your assets, and your reputation. Talk to your attorney before you reach out to the breaching party to ensure you do not inadvertently forfeit any of your rights under law or contract.
Discuss the Matter With the Other Party
It's never wise to immediately assume the worst of your business partners. If you have an arrangement with another party and you believe they are in breach of your agreement, you and your attorney can give them a call and discuss the matter. They might not even realize they are in breach. They may have miscalculated their payments or made a simple oversight that led to a failure to deliver goods or services. If there's an easy remedy, either to simply perform under the contract or pay overdue amounts, it's better to resolve the matter informally before resorting to more formal legal processes.
Moreover, many contracts include a notice of breach provision. Often, contracts include a period to "cure" the breach, i.e., fix the problem before legal proceedings can commence. That means that there may not technically be a breach until you notify the other party of their failure to perform and give them a chance to correct the problem. Make sure to review your contract with your lawyer to determine what notice is required, what cure period the other party might be entitled to, and what other duties you may have before seeking damages.
Consider Mediation and Other Alternative Dispute Resolution Methods
Once you have identified a breach and you have hit a point where the other party disagrees, you now have a dispute that needs resolution. Before you immediately head to court, consider your other options for dispute resolution. Mediation and other alternative dispute resolution tactics can be quicker, cheaper, and easier to resolve business disputes. Moreover, because alternative dispute resolution methods tend to be less contentious, you are more likely to preserve your business relationship with the other party so that you can work together in the future.
Discuss your options with your business law attorney. You might go through a few steps to resolve the matter informally before proceeding with a formal business dispute. Ultimately, however, you may need to go to court to protect your business.
If you need legal assistance with a Texas business law matter, contact a skilled and thorough Texas business dispute lawyer at the Houston offices of attorney Leigh Meineke at Leigh B. Meineke Law Firm by calling 832-706-0244.